CMT Workshop's Dance Technique Classes
NEW DANCE CLASSES AT CMTW!
Children's Musical Theatre Workshop is proud to include the AMERICAN BALLET THEATRE® National Training Curriculum, a breakthrough 8 level program that combines high quality artistic training with the basics of dancer health and child development. The ABT® National Training Curriculum consist of a comprehensive set of age-appropriate, outcome-based guidelines to provide the highest quality ballet training to dance students of all ages and skill levels.
Primary through Level 5 will be taught by ABT® Certified Teacher, Christine Simmons (Miss Crisi), who has successfully completed the ABT® Teacher Training Intensive in Primary through Level 5 of the ABT® National Training Curriculum.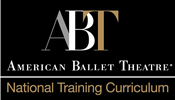 For more information on pricing and registration please e-mail MissCrisi.CMTW@yahoo.com or visit Dance Studio-Pro
DANCE tuition is added up by Hours Per Family. There are 11 class payments in our 2018-2019 Season and a $75 costume fee per class (Costume fee is broken into 3 monthly payments 9/1, 10/1, 11/1). Although there is only one dance week in June this year, there are 8+ rehearsal hours for our Pre-Primary, Primary and Super Star students and 20+ hours for our Elementary, Teal, Silver and Black students during that week (not including the day of the show), so full June tuition will be charged.
Dance Tuition DEALS!
Families with dancers who spend 5 or more hours in the studio are eligible for special Unlimited class rates (these prices do not include enrollment in our Musical Theatre program or costume fees):
Unlimited 1 Dancer (5+ weekly hours): $225

$25 per class monthly for each additional sibling/guardian or $50 unlimited monthly per additional sibling.

Unlimited Dance + 6th-12th grade Musical Theatre Program (This monthly fee DOES include M/W 5-7:30 Musical Theatre class, but does not include DANCE costume fees) : $330 (June payment is $225)
There is a special discount available for returning unlimited dancers! Please e-mail MissCrisi.CMTW@gmail.com for information.